Free worldwide shipping on orders over 50 USD now through Sunday!
Choose Number of Cards
$4.00 / Card

$3.40 / Card

$3.20 / Card
From The Artist
Gilgamesh is a demigod of superhuman strength in Sumerian myths, who builds the city walls of Uruk to defend his people and after the death of his friend Enkidu travels to meet the sage Utnapishtim, who survived the Great Flood. His name means something to the effect of "The Ancestor is a Young-man" . He is a great warrior of unparalleled strength.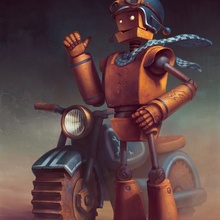 Yigit Koroglu
I'm an illustrator and concept artist painting for video games, books, tabletop games and movies.
Description
Share your favorite art on soft textured natural white stationery cards, archival-rated with beautiful color reproduction. Each folded card includes a natural white envelope perfect for mailing. Card dimensions are approximately 5.5" x 7.5".
Tags
lion
warrior
mythology
legend
ancient
myth
mesopotamia
sumerian
gilgamesh
whitelion
akaddian
mesopotamian
Also available as:

You may also enjoy: