Free worldwide shipping on orders over 35 USD!
From The Artist
In Sumerian mythology, Enkidu was formed from clay and saliva by Aruru, the goddess of creation, to rid Gilgamesh of his arrogance.Though equal to Gilgamesh in strength and bearing, he acts in some ways as an antithesis to the cultured, urban-bred warrior-king. Enkidu then becomes the king's constant companion and deeply beloved friend, accompanying him on adventures.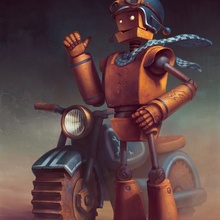 Yigit Koroglu
I'm an illustrator and concept artist painting for video games, books, tabletop games and movies.
Description
This is a gallery-quality giclée art print on 100% cotton rag archival paper, printed with archival inks. Each art print is listed by sheet size and features a minimum one-inch border.
Tags
warrior
bull
centaur
conceptart
enkidu
Also available as:
You may also enjoy: