15% off everything, all weekend long!
From The Artist
The stylish as hell antagonists of Contact (DS). The art of the game is obnoxiously difficult to find so these designs were partially made up by me according to their in-game sprites excluding cute lil' mint at the back who has some official art of her floating around.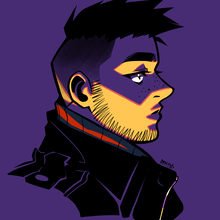 Diogo Landolt
21 y/o homosexual commie cat boy out here making some gay-ass art which you can now hang up on ur wall! Ooo! Aaah!
Description
This is a gallery-quality giclée art print on 100% cotton rag archival paper, printed with archival inks. Each art print is listed by sheet size and features a minimum one-inch border.
Tags
illustration
digital art
game
fan art
contact
ds
suda51
cosmonots
Also available as:
You may also enjoy: