Free worldwide shipping on orders over 25 USD now through Sunday!
Choose Number of Cards
$5.00 / Card

$4.25 / Card

$4.00 / Card
From The Artist
Part No15 of Touch of Red Amid Moving Cloud, Flowing Creek and Waterfalls (行雲流水醉秋山)

The original of this painting is very large - size 84" x 42". It was painted with Chinese brush and ink. Scene includes cloud, waterfall, creek, maple leaves, rocks.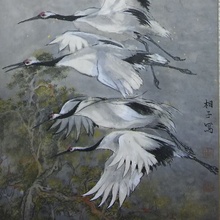 River Han
Retired architect and a lifetime Chinese calligrapher and brush painter. Now lives in California.
Description
Share your favorite art on soft textured natural white stationery cards, archival-rated with beautiful color reproduction. Each folded card includes a natural white envelope perfect for mailing. Card dimensions are approximately 5.5" x 7.5".
Tags
red
nature
cloud
waterfall
rocks
asian
ink
autumn
traditional
chinese
mountain
creek
brush painting
maple leaves
Also available as:
You may also enjoy: