Free worldwide shipping on orders over 45 USD!
From The Artist
BECOME A PATRON AND GET A 25% DISCOUNT ON MY ARTWORK PRINTS: ► www.patreon.com/iampylot

Featuring PYLOT as well as all four members of the Shadowtask team: Locke(Top), Data (Right), Caine (Bottom), Clova (Left).

► www.iampylot.com/shadowtask

---

► Art by Yakovlev Art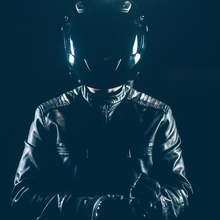 PYLOT
Created in 2015, Pylot (http://www.iampylot.com) is a project inspired by music, film and various art styles from the 80's. It's focus is to provide original music whilst engaging listeners in a compelling story where the music serves as the soundtrack.

With no strict release schedule, this story unfolds periodically in the form of 'journal entries' using a graphic novel type format on my website. With each release I also publish an original song and original artwork illustrated by Mike Yakovlev (http://www.myakovlev.com), the prints of which can be purchased right here.

Description
Gallery-quality canvas prints on a smooth white archival canvas. Each canvas is hand cut and wrapped, featuring a 1.5" white edge. Hanging hardware is included making your canvas ready to display.
Also available as:
You may also enjoy: