Free worldwide shipping on orders over 50 USD now through Sunday!
Original Colorized Skull Painting - Skullerized by Guy Gondron
From The Artist
I've noted before that I'm fascinated by bones, skulls in particular. More than just the physical structure of them, but the metaphysical meaning behind them and the spiritual symbology they express. This, of course is all rather cliche and has actually been done to death. Heh. With that in mind, I was contemplating a way to make them less macabre, to steal away this symbology of death and imbue the bones with life and vibrance. This too has been done, of course, in the old world rituals of painting the bones of the dead with vibrant colors, in the more celebratory rituals that some cultures use to celebrate the deaths of family or societal figures. So, here is my meager attempt at livening up death with color. Celebrating life through vibrant death. Or vice versa.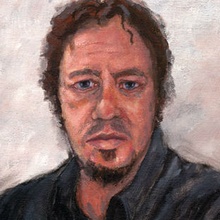 Guy Gondron
It's cliche to say that my work represents parts of myself.

My work often lacks focus but makes up for it with passion.
It is prone to overcast landscapes and casual nudity.

In my work, I strive for an ideal I hold in my head. It's a difficult ideal to nail down, often mired in Impressionism but wavering into Post-Impressionism, eroticism, contemporary street with a goth tinge, scribbles. I digress. Often.
Description
This is a gallery-quality giclée art print on 100% cotton rag archival paper, printed with archival inks. Each art print is listed by sheet size and features a minimum one-inch border.
Tags
skull
death
skeleton
bright colors
skull art
skull painting
colored skull
Also available as:
You may also enjoy: