Free worldwide shipping on orders over 25 USD now through Friday!
From The Artist
Portrait of a barn owl

© 2014 Guy Gondron

9"x12"
Acrylic on canvas

I'd like to make myself believe
That planet Earth turns slowly
It's hard to say that I'd rather stay awake when I'm asleep
Because my dreams are bursting at the seams

Owl City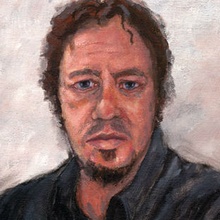 Guy Gondron
It's cliche to say that my work represents parts of myself.

My work often lacks focus but makes up for it with passion.
It is prone to overcast landscapes and casual nudity.

In my work, I strive for an ideal I hold in my head. It's a difficult ideal to nail down, often mired in Impressionism but wavering into Post-Impressionism, eroticism, contemporary street with a goth tinge, scribbles. I digress. Often.
Description
This is a gallery-quality giclée art print on 100% cotton rag archival paper, printed with archival inks. Each art print is listed by sheet size and features a minimum one-inch border.
Tags
blue
night
art
painting
artist
bird
owl
barn owl
Also available as:
You may also enjoy: