Free worldwide shipping on orders over 25 USD now through Sunday!
Choose Number of Cards
$5.00 / Card

$4.25 / Card

$4.00 / Card
From The Artist
16" x 20"
Acrylic on stretched canvas

Stark whites and cool blues dominate this piece.

A heart askance
The time is late
One direction
Neither travel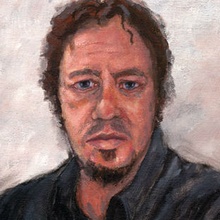 Guy Gondron
It's cliche to say that my work represents parts of myself.

My work often lacks focus but makes up for it with passion.
It is prone to overcast landscapes and casual nudity.

In my work, I strive for an ideal I hold in my head. It's a difficult ideal to nail down, often mired in Impressionism but wavering into Post-Impressionism, eroticism, contemporary street with a goth tinge, scribbles. I digress. Often.
Description
Share your favorite art on soft textured natural white stationery cards, archival-rated with beautiful color reproduction. Each folded card includes a natural white envelope perfect for mailing. Card dimensions are approximately 5.5" x 7.5".
Tags
feminine
feminism
pale skin
gothic romance
woman in blue
original painting
figure painting
portrait blue and white
original fine art
original acrylic painting
Also available as:
You may also enjoy: