Free worldwide shipping on orders over 25 USD now through Friday!
From The Artist
Broken roses, their petals weeping pale tears. The foundation of leaves is deaf to their mute sobs.

No 7 in the Flaahrs series, Broken Flowers is slightly more white and blue tinged than its older siblings. The background is at once more muted and yet slightly more colorful, with blues and teals and lavenders pricking the shadows.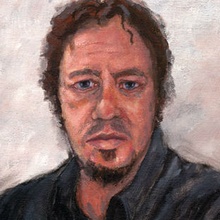 Guy Gondron
It's cliche to say that my work represents parts of myself.

My work often lacks focus but makes up for it with passion.
It is prone to overcast landscapes and casual nudity.

In my work, I strive for an ideal I hold in my head. It's a difficult ideal to nail down, often mired in Impressionism but wavering into Post-Impressionism, eroticism, contemporary street with a goth tinge, scribbles. I digress. Often.
Description
This is a gallery-quality giclée art print on 100% cotton rag archival paper, printed with archival inks. Each art print is listed by sheet size and features a minimum one-inch border.
Tags
white
flowers
garden
painted roses
floral painting
rose art
white flowers
pink flowers
Also available as:
You may also enjoy: