Free worldwide shipping on orders over 50 USD now through Sunday!
From The Artist
This is a mixed media piece that is part of a series where I explore different aspects of Self, archetypes and symbolism
I used ink, acrylic, charcoal, graphite white pastel and collage paper
She knows that life is an opportunity to be true to ourselves and be expressive. That looks different for everyone. It takes courage and dedication to find what lays at your center and to be unapologetic about what you find.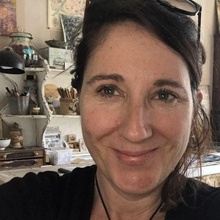 Maureen Nadeau
I am an artist who loves exploring various mediums.
I have several bodies of work that I enjoy developing in my studio outside Charlotte NC
Description
This is a gallery-quality giclée art print on 100% cotton rag archival paper, printed with archival inks. Each art print is listed by sheet size and features a minimum one-inch border.
Also available as:
You may also enjoy: