Free worldwide shipping on orders over 35 USD now through March 31!
Choose Number of Cards
$5.00 / Card

$4.25 / Card

$4.00 / Card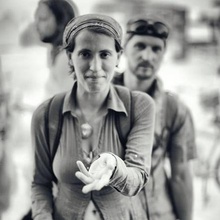 Willa Applegate
Welcome to my inprnt page! This is the art of Anna Mantheakis, also known by my artist-alter-ego-pseudonym Willa Applegate.

I am an artist and a scientist all rolled into one. I take inspiration from nature and dreams. Wine is my profession, art is... well, not a hobby. Much more than a hobby. It is a passion, an irresistible impulse, a worldview, and a way of life. I get lost in my sketch pad for hours. When I have a good idea, it utterly possesses me for days until I have the time to put it down on paper. Art ...
Description
Share your favorite art on soft textured natural white stationery cards, archival-rated with beautiful color reproduction. Each folded card includes a natural white envelope perfect for mailing. Card dimensions are approximately 5.5" x 7.5".
Tags
cats
illustration
drawing
surrealism
surreal
lynx
Also available as:
You may also enjoy: