$15.00

$20.00

$40.00

$80.00
From The Artist
The two youths, with nary a smart wit among them, barreled through the woods, with cargo that belonged to neither of them. "This wasn't the way we spoke of," one said, wheezing through panting breath. "If you hadn't kept a better lookout, and were the city guard not on our tail because of your daft brain, we'd have been on that path." "Well we've been running for hours now. How long would they chase us really?" The whining boy stopped, his face a storm of sweat. "Let's rest." The other youth leaned against a near tree. The loud rhythmic drum in his ears didn't allow his eyes to assess the surrounding the two boys now found themselves in. These woods were dead silent. No birds, wolves, or even the sound of beasts or monsters. A black mist streamed through the woods and found two new arrivals to her domain. One boy saw the blackness but was paralyzed with fear. Whimpering, he closed his eyes and turned his gaze away in some veiled attempt at camouflage, hoping this thing would overlook him.
The black mass, undulating, began to take shape. A crescent horned cloaked figure hovered before them now. She was faceless, pale as the moon, with an engorged, almost distended looking network of veins for an abdomen. Her Pinky and forefinger were elongated, with tentacle like accutruments on her shoulders and elbows. The boy still kept his eyes tightly sealed but could hear his friend, "Oh god, please no." A sharp gasp, and then silence. The boy opened his eyes to see the same woods but not his friend. The cloaked figured turned toward him. Even with no face the boy felt a piercing gaze. He would not stay to join in his fate. He'll go back, to the city. In one swift adrenaline filled jerk, the young lad turned to run back the way he came. Not a moment sooner, did a pale hand gently place itself on his shoulder and his eyes were glossed over to a dark infinity. He was hers now.

"Deep in the Woods of the Entombed, where no human or animal would dare tread, the black spectral warden Quoquesep, tends to all that now belongs to her."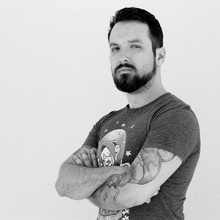 Logan Feliciano
Hello,
I'm a Concept Artist and Illustrator working in the entertainment industry. Thanks for dropping by!
Description
This is a gallery-quality giclée art print on 100% cotton rag archival paper, printed with archival inks. Each art print is listed by sheet size and features a minimum one-inch border.
Tags
fantasy
illustration
digital
scary
horror
magic
art
painting
woods
monster
story
creature design
dark fantasy
lovecraftian
logan
eldritch
nightmarefuel