$15.00

$20.00

$40.00

$80.00
From The Artist
Absolutely power corrupts absolutely, and even angels are no exception to this. Puraniisil was an angel of swift justice. Agile with her two pronged pike, blessed by the Makers, nothing could stand against her, not until she came up against the Queas'cith, a giant predator of enormous power and destruction, laying waste to human villages and cities in its path. Puraniisil fought the creature for 3 days, the land forever scarred from their long battle. When the dust had settled, the Queas'cith lay lifeless. Deep inside, Puraniisil could feel its great power pulsing, whispering, calling to her. "This monster was born from evil, best to leave it be." Her resolve was strong, but the urge grew stronger, the desire increased, almost unbearably so. I could...use this power for good. Imagine the lives I could save, I could change the world such a power. She reached her hand into the carapace of the dead beast and grasped its heart. The surge she felt was euphoric, enlightening, overwhelming even, but then it quickly changed to pain, fear, and then darkness took her. From that day, Puraniisil was never the same.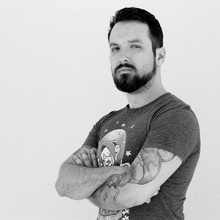 Logan Feliciano
Hello,
I'm a Concept Artist and Illustrator working in the entertainment industry. Thanks for dropping by!
Description
This is a gallery-quality giclée art print on 100% cotton rag archival paper, printed with archival inks. Each art print is listed by sheet size and features a minimum one-inch border.
Tags
fantasy
wings
illustration
magic
art
digital art
light
power
corruption
angel
story
pure
fantasy art
logan