$15.00

$20.00

$40.00

$80.00
From The Artist
The city lay quiet, no need for alarm bells to be rung or for the guard or hunters to be called. The night watch wasn't in for an event that night, or so they thought. A faint cry of birds could be heard in the distance, and grew louder, and louder still. Through the clouds, a faceless giant silently broke through, the amassed flock of birds circling it's gargantuan floating horns. Within its form, its large gaping maw, glowing magenta beneath runes, opened. Monsters of the night began pooling and overflowing into the unsuspecting city below. Many will die this night, knowing not that their end was brought by Latros'isith, The Gateway.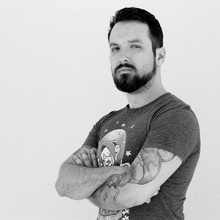 Logan Feliciano
Hello,
I'm a Concept Artist and Illustrator working in the entertainment industry. Thanks for dropping by!
Description
This is a gallery-quality giclée art print on 100% cotton rag archival paper, printed with archival inks. Each art print is listed by sheet size and features a minimum one-inch border.
Tags
fantasy
god
night
illustration
digital
horror
magic
art
painting
city
moon
nightmare
creature
giant
gateway
fuel
guard
lovecraftian
inspired
fantasyart