Free worldwide shipping on orders over 35 USD!
From The Artist
Aíma, The Blood Siphon, washes through human cities like a starving locust swarm. Few, if any, claim to know the reasons why. The blood magic is used to summon demons some say. Others claim dark forbidden rituals are conducted with the blood. None no for certain, yet it is undeniable the terror that is struck into human hearts when they hear of Aíma's arrival. "Such abundance of medium to work with, it mustn't go to waste."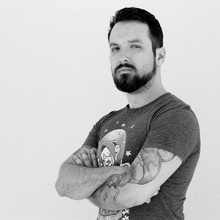 Logan Feliciano
Hello,
I'm a Concept Artist and Illustrator working in the entertainment industry. Thanks for dropping by!
Description
This is a gallery-quality giclée art print on 100% cotton rag archival paper, printed with archival inks. Each art print is listed by sheet size and features a minimum one-inch border.
Tags
magic
fantasy
creature
horror
blood
red
horns
spell
lovecraftian
eldritch
Also available as:
You may also enjoy: