Free worldwide shipping on orders over 25 USD now through Sunday!
Choose Number of Cards
$5.00 / Card

$4.25 / Card

$4.00 / Card
From The Artist
From an unattributed nursery rhyme:

One for sorrow, two for mirth,
Three for a wedding, four for a birth,
Five for silver, six for gold,
Seven for a secret not to be told.
Eight for heaven, nine for hell,
And ten for the devil himself.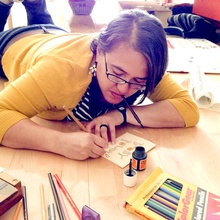 Description
Share your favorite art on soft textured natural white stationery cards, archival-rated with beautiful color reproduction. Each folded card includes a natural white envelope perfect for mailing. Card dimensions are approximately 5.5" x 7.5".
Tags
acrylic
crows
woodgrain
counting
skeleton keys
Also available as:
You may also enjoy: