Free worldwide shipping on orders over 35 USD now through March 31!
From The Artist
This calligraphy painting/typography illustration was created in the spirit of art -- in all its color and passion and joy -- as defiance of hate. I was asked to contribute to a piece VICE was running: artists responding to a horrible homophobic cartoon. (The article is here: http://www.vice.com/en_au/read/we-asked-artists-to-respond-to-bill-leaks-nazi-comic)

Often bigots will castigate "the gay/queer/LGBT+ agenda", as if it's some terrible conspiracy. As if we want to take over the world and remake it into some special version of hell. When really, that's not the case. What we want is quite simple: to live, to be human wholly and completely. So I created this piece in response to the question: "what do you really want?"

The text in the background reads: ": to survive. to grow. to study without being bullied. to work without being under threat. to walk around and not be harmed. to meet people and not encounter abuse. to take public transport and not be harassed. to hold each other's hands. to marry. to raise our families. to build our homes. to be safe. to know peace. to access care when we're sick. to help when we can. to have help when we need it. to contribute to our communities. to be equal under the law. to belong. to sing. to dance. to create. to speak our truth. to be happy. to love."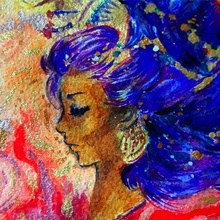 Likhain
Filipina visual artist and calligrapher working in traditional media: ink, watercolor, gouache.

My art tells the stories of women, monsters, cities, fire.
Description
This is a gallery-quality giclée art print on 100% cotton rag archival paper, printed with archival inks. Each art print is listed by sheet size and features a minimum one-inch border.
Tags
watercolor
rainbow
ink
typography
gold
silver
inspiration
queer
calligraphy
lgbt
lgbt rights
Also available as:
You may also enjoy: