Free worldwide shipping on orders over 35 USD now through March 31!
Pick A Phone Model
$35.00

$35.00

$35.00

$35.00

$35.00

$35.00

$35.00

$35.00

$35.00

$35.00

$35.00

$35.00

$35.00

$35.00

$35.00
From The Artist
Prinsesa is magnificence. She is unafraid, confident enough in her power to pretend to such vulnerability as sleep, even when she may be seen by strangers; certain enough to remain untouched by storm. She is potential about to blossom and establish its dominion over all.

(She is well-read, too. Look: she fell asleep reading, even. Probably just after having a snack. Like me, she nibbles while reading.)

She is sun and blood and untetherable radiance. She is aswang.

The original of this piece was rendered in watercolor and ink. "Prinsesa" is part of a series focusing on Philippine mythology and folklore -- but reimagined, queered, transformed.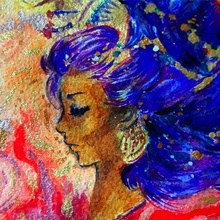 Likhain
Filipina visual artist and calligrapher working in traditional media: ink, watercolor, gouache.

My art tells the stories of women, monsters, cities, fire.
Description
Protect your phone with this slim profile case. The impact resistant hard shell covers the back and sides, while the lay-flat feature protects the front of your device by extending the bezel above the screen.
Tags
fantasy
red
woman
detail
princess
monster
gold
crown
witch
poc
woman of color
Also available as:
You may also enjoy: