Free worldwide shipping on orders over 35 USD now through Nov. 1!
From The Artist
I started a project called "BLACKOLOGY". This illustration is a portrait of "Michael Jordan" the Chicago Bull basket player legend. This Artwork is a digital painting, drawn and painted on a Wacom Tablet using Adobe Photoshop and Illustrator. I wanted to highlight and tribute some "Black icons" of the 80's and 90's. Each illustration featuring a character. Behind the character, i've created a specific "Graphic frame" inspired by the universe of the celebrity/icon. I'm creating some kind of "Holy representations" of these celebrities and present them as some kinds of "Pop Culture divinities". I've created this to work on the evolution of "celebrities" and the way people are "elevating them" to the status of some kind of gods in this new millennium. I'm doing a kind of mirror and was inspired by all the "classic religious imagery" but revisited today with a "modern & graphic" visual approach and subjects. ---- I started by doing a detailed sketch of Steve and then I painted the portrait on Adobe Photoshop and Adobe illustrator using a Graphic Tablet.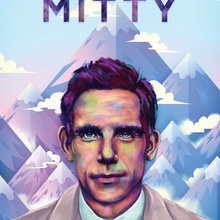 Ladislas Chachignot
My name is Ladislas i'm a French Illustrator and designer. I was Born in the 80'S & i'm influenced by all this culture of movies, toys and awesomeness of this period. Evolving between "Digital painting" and "Vector Art" my graphic universe mix colors, lines, details and bunch of other stuff like bike, customization , art toys , music and movies.
I'm also influenced by StreetArt My goal is to create some original artworks, paintings, customized objects and whatever i'm able to put my fingers on.
I want to create images with strong visual impact and visual atmosphere that reflects my ...
Description
This is a gallery-quality giclée art print on 100% cotton rag archival paper, printed with archival inks. Each art print is listed by sheet size and features a minimum one-inch border.
Tags
portrait
blue
black
decoration
illustration
drawing
wall
digital
print
colors
culture
poster
art
graphic
colorful
design
artist
legend
cool
80s
pop
bull
90s
michael
artwork
chicago
celebrity
painterly
icon
athlete
jordan
inspiring
blackology
ladislas
Also available as:
You may also enjoy: