Free worldwide shipping on orders over 35 USD!
From The Artist
The Bipedal Styx Walker roams the banks of the River Styx, hence it's name. It spends it's time walking up and down the river in search of puddles to drink from. Due to it's anatomy, this creature is a poor swimmer so it relies on it's long tongue to lap up these puddles like some kind of horrifying cat mutant. The bigger and fuller the brightly coloured pustules, the easier they fall off. They look like jellybeans and are treated as a sour staple in the underworld and thus the Bipedal Styx Walker is treated similar to cows on earth.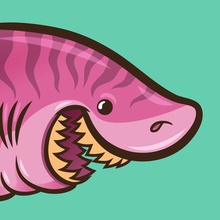 Jennifer Smith
I enjoy designing bright and colourful vector illustrations influenced by animals, dinosaurs, creepy themes and dark humour.
Description
This is a gallery-quality giclée art print on 100% cotton rag archival paper, printed with archival inks. Each art print is listed by sheet size and features a minimum one-inch border.
Tags
digital
vector
smile
colourful
puddle
monster
strange
eyes
mutant
tongue
creature
horns
demon
black hair
ugly
hooves
grin
bipedal
styx
two legs
pus
Also available as:
You may also enjoy: