Free worldwide shipping on orders over 50 USD now through Sunday!
$15.00

$20.00

$40.00

$80.00
From The Artist
To be in orbit around Earth means that he is in constant freefall towards the planet, but moving forward so fast that he keeps missing. If an impact or other event were to slow his velocity, his orbit would decay, pulling him down faster than he moves forward. As he falls, atmospheric drag slows him further. Friction converts his kinetic energy into heat, and he burns up entirely before reaching the ground.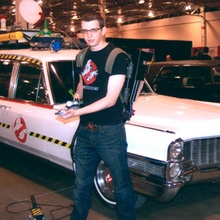 Nathan Hoste
I am Nathan Hoste and I made these lines and colors. I do these things in the event horizon of Metro Detroit. My least favorite words are: juxtaposition, wonky, style, and seepage. I am a carbivore, unless bacon and beef and sausage and chicken are carbs, in which case I'd be a carbitarian. Crab has got to be a carb. My hobbies are: bread, honking, etc. My interests include: cats.
Description
This is a gallery-quality giclée art print on 100% cotton rag archival paper, printed with archival inks. Each art print is listed by sheet size and features a minimum one-inch border.
Also available as:
You may also enjoy: