Free worldwide shipping on orders over 35 USD!
From The Artist
Urban Mermaid – Urban fantasy art. The third in my 'Everything Evolves' environmental awareness series. The model stock is from Marcus Ranum. Model: Sarah Ellis.

Urban Mermaid ©Galen Valle. All rights reserved.

Everything Evolves Series:

Urban Human: http://goo.gl/DnWrHU
Urban Mermaid: http://goo.gl/gEC4UT
Urban Dragon Slayer: http://goo.gl/bX0URt
Urban Human: http://goo.gl/vIt3v4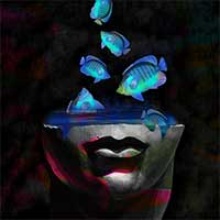 Galen Valle
Digital mixed media artist. Notorious genre-jumper.

I'm an artist specializing (mostly) in digital mixed media, digital paintings, illustrations, and photo manipulations. My influence is mostly early to mid 20th century modern art. I often use elements of the styles of that period to create contemporary art using present-day subject matter and media. The goal is to to build bridges between past and present art styles and evoke moods and feelings that are relevant to life today – but that also don't forget the past.

All artwork is copyright ©2019 Galen Valle. All rights reserved.

Description
This is a gallery-quality giclée art print on 100% cotton rag archival paper, printed with archival inks. Each art print is listed by sheet size and features a minimum one-inch border.
Tags
fantasy
environment
city
urban
mermaid
science fiction
urban fantasy
conservation
sewer
everything evolves series
galen valle
Also available as:
You may also enjoy: