Free worldwide shipping on orders over 35 USD now through March 31!
From The Artist
Therian - Photo manipulation loosely inspired by the werecat mythology as depicted in the 1982 erotic horror film 'Cat People'. The model photo is Elle photographed by David MacKenzie.

Therian © Galen Valle. All rights reserved.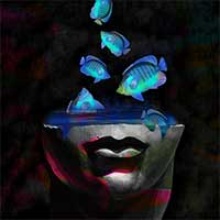 Galen Valle
Digital mixed media artist. Notorious genre-jumper.

I'm an artist specializing (mostly) in digital mixed media, digital paintings, illustrations, and photo manipulations. My influence is mostly early to mid 20th century modern art. I often use elements of the styles of that period to create contemporary art using present-day subject matter and media. The goal is to to build bridges between past and present art styles and evoke moods and feelings that are relevant to life today – but that also don't forget the past.

All artwork is copyright ©2019 Galen Valle. All rights reserved.

Description
This is a gallery-quality giclée art print on 100% cotton rag archival paper, printed with archival inks. Each art print is listed by sheet size and features a minimum one-inch border.
Tags
cats
vintage
cat
panther
leopard
cat people
Also available as:
You may also enjoy: