Free worldwide shipping on orders over 35 USD now through March 31!
Choose Number of Cards
$5.00 / Card

$4.25 / Card

$4.00 / Card
From The Artist
Human - ... but not so much. Digital mixed media portrait with a cyborg stare. The model is a mannequin photo from pedrojperez on morgueFile. Human © Galen Valle. All rights reserved.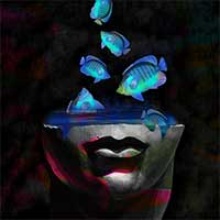 Galen Valle
Digital mixed media artist. Notorious genre-jumper.

I'm an artist specializing (mostly) in digital mixed media, digital paintings, illustrations, and photo manipulations. My influence is mostly early to mid 20th century modern art. I often use elements of the styles of that period to create contemporary art using present-day subject matter and media. The goal is to to build bridges between past and present art styles and evoke moods and feelings that are relevant to life today – but that also don't forget the past.

All artwork is copyright ©2019 Galen Valle. All rights reserved.

Description
Share your favorite art on soft textured natural white stationery cards, archival-rated with beautiful color reproduction. Each folded card includes a natural white envelope perfect for mailing. Card dimensions are approximately 5.5" x 7.5".
Tags
portrait
woman
human
cyborg
stare
humans
Also available as:
You may also enjoy: