Free worldwide shipping on orders over 50 USD now through Sunday!
From The Artist
A personal work. This is a closeup of two of the characters contained in a larger piece Titled "Symbiosis". The characters were created by photography of a model in a beige body suit. Then the zebra stripes were painted over the body surface, and warped to conform to the contours of the body. The same model was used for both characters.
Brad Fraunfelter
By lucky chance, while visiting my local chiropractor in 2010 I was told of an author who was looking for a book cover artist. After collaborating with the author she decided to hire me to do the covers for a 3 part series of Sci-Fi novels. I had never done a book cover before, and for the sake of getting this opportunity I did the cover for an incredibly low fee. Nevertheless, I had the great fortune of getting it published in "Advanced Photoshop" magazine. Since then I have continued practicing the craft and increasing my skill for 6 years ...
Description
This is a gallery-quality giclée art print on 100% cotton rag archival paper, printed with archival inks. Each art print is listed by sheet size and features a minimum one-inch border.
Tags
animal
girl
woman
warrior
hunter
tiger
fantasy art
feline
huntress
zebra
Also available as: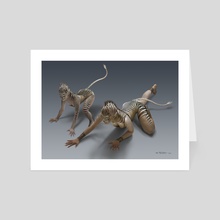 You may also enjoy: