From The Artist
Franz Kafka never moved from his Prague. For the setting of his novel "Amerika", he probably used the notions that he took from the newspapers and from his literary knowledge. Then he filled the gaps left by that informations with his imagination, inventing a really comprehensive and credible setting. Today he wouldn't have this problem, because the network provides us with detailed and substantial information on anything. The universal knowledge is available to all. And everyone, sooner or later run into the same two problems: this information is too much, we do not need it! (till the point that often we remain submerged and we do not know anymore what we were looking for). And then, how do we verify its authenticity? The virtual reproduction of the real world offered by the internet is so plausible, to make hard this verification. And often that virtual world is more attractive than the reality, to the point that this verification is not so important. Is this news true? Is this picture real? Or is it a montage? No matter, as long as it catches our attention. And this red star? Wasn't it on the domes of the Kremlin? What is it doing on a skyscraper in New York? No matter, it's good enough ...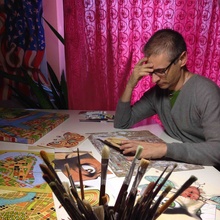 federico cortese
I was born in 1971 in Turin, Italy, where I live and work as an artist. Since I can remember I have always drawn. My preferred techniques are classic oil on canvas paintings, and pencil drawings.

I'm like a mouse in its box. A little mouse safe in its shelter, that passes his time gnawing the food stored for the winter. But my food are the drawings. I work within my home. My studio is a room of the house in which I live. In this relatively small space are accumulated all the materials and equipment I need to ...
Description
This is a gallery-quality giclée art print on 100% cotton rag archival paper, printed with archival inks. Each art print is listed by sheet size and features a minimum one-inch border.
Tags
fantasy
red
architecture
cityscape
city
buildings
new york
star
imaginary
skyscrapers
waterfront
city view