Free worldwide shipping on orders over 25 USD now through Friday!
Choose Number of Cards
$5.00 / Card

$4.25 / Card

$4.00 / Card
From The Artist
An original piece from the series "Houses on the water", oil on thick paper, 50 x 37 cm, 2016. ORIGINAL SOLD.

In this series of paintings I try to blend together the architectural and monumental elements of a place or a city. It 'a bit like recalling to the memory a journey made in the past: it will produce many confused and overlapping images. The title of the series wants to reclaim the idea of a fluid memory, moved like water, and confused like a mirage.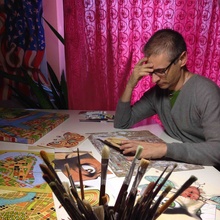 federico cortese
I was born in 1971 in Turin, Italy, where I live and work as an artist. Since I can remember I have always drawn. My preferred techniques are classic oil on canvas paintings, and pencil drawings.

I'm like a mouse in its box. A little mouse safe in its shelter, that passes his time gnawing the food stored for the winter. But my food are the drawings. I work within my home. My studio is a room of the house in which I live. In this relatively small space are accumulated all the materials and equipment I need to ...
Description
Share your favorite art on soft textured natural white stationery cards, archival-rated with beautiful color reproduction. Each folded card includes a natural white envelope perfect for mailing. Card dimensions are approximately 5.5" x 7.5".
Tags
architecture
city
buildings
urban
italian
italy
monument
monuments
city view
urban view
turin
Also available as:
You may also enjoy: