Free worldwide shipping on orders over 25 USD now through Sunday!
From The Artist
An original piece from the series "Windows", oil and pencil on wood panel, 35 x 25 cm

The facade of a building is a sort of skin for it. A dress, a kind of embroidery where the alternation of elements (full and empty, windows, materials, structural and decorative elements) gives a different rhythm every time. In my travels I always wonder if it is possible to discover this rhythm and its variations, and if it is specific for that place, or whether modernity has made us all irreparably the same. But probably behind this interest there is also a sort of voyeurism. Who lives in these rooms? Which eyes glance from there? What kind of stories and tragedies hide in those houses?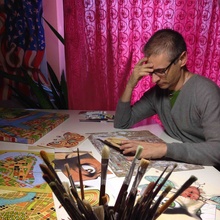 federico cortese
I was born in 1971 in Turin, Italy, where I live and work as an artist. Since I can remember I have always drawn. My preferred techniques are classic oil on canvas paintings, and pencil drawings.

I'm like a mouse in its box. A little mouse safe in its shelter, that passes his time gnawing the food stored for the winter. But my food are the drawings. I work within my home. My studio is a room of the house in which I live. In this relatively small space are accumulated all the materials and equipment I need to ...
Description
This is a gallery-quality giclée art print on 100% cotton rag archival paper, printed with archival inks. Each art print is listed by sheet size and features a minimum one-inch border.
Tags
architecture
landscape
buildings
houses
street
urban
building
windows
Also available as:
You may also enjoy: