Free worldwide shipping on orders over 25 USD now through Sunday!
From The Artist
An original piece from the series "Sistine mood", oil on paper, original size 42 x 29.7 cm, 2015.

This series of drawings was inspired by Michelangelo's Sistine Chapel. Some portraits are directly based on the figures painted on the vault. Then I painted other faces trying to reproduce that style, and the characteristics that in my opinion distinguish it: the intense expression of the faces, the light and half transparent colors as if the aim was to let emerge the underlying drawing, the profile marked by a darker line, the background of a mostly uniform sky.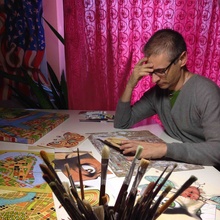 federico cortese
I was born in 1971 in Turin, Italy, where I live and work as an artist. Since I can remember I have always drawn. My preferred techniques are classic oil on canvas paintings, and pencil drawings.

I'm like a mouse in its box. A little mouse safe in its shelter, that passes his time gnawing the food stored for the winter. But my food are the drawings. I work within my home. My studio is a room of the house in which I live. In this relatively small space are accumulated all the materials and equipment I need to ...
Description
This is a gallery-quality giclée art print on 100% cotton rag archival paper, printed with archival inks. Each art print is listed by sheet size and features a minimum one-inch border.
Tags
portrait
man
classic
male
italian
face
oil painting
renaissance
expression
italy
classical
Also available as:
You may also enjoy: