Free worldwide shipping on orders over 45 USD!
From The Artist
An original piece from the series "Please do not kill butterflies". ORIGINAL SOLD.

Please, all these dead animals ... Of course, not everyone of us can or want become vegetarian. Sure, in some cases, maybe, the medical experimentation needs them to get results. But we really have to kill them for our frivolous activities? ... Is it necessary to have so many pink pigs die in front of a camera? Do we really need to dissect sharks in formaldehyde, to starve stray dogs tied to a chain in the corner of a gallery, or to make innocent ants go crazy in twisted tubes of plexiglas? To make these drawings, no butterfly was killed.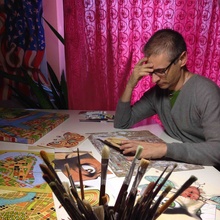 federico cortese
I was born in 1971 in Turin, Italy, where I live and work as an artist. Since I can remember I have always drawn. My preferred techniques are classic oil on canvas paintings, and pencil drawings.

I'm like a mouse in its box. A little mouse safe in its shelter, that passes his time gnawing the food stored for the winter. But my food are the drawings. I work within my home. My studio is a room of the house in which I live. In this relatively small space are accumulated all the materials and equipment I need to ...
Description
This is a gallery-quality giclée art print on 100% cotton rag archival paper, printed with archival inks. Each art print is listed by sheet size and features a minimum one-inch border.
Tags
fantasy
nature
insects
decor
decoration
decorative
surreal
butterfly
animals
insect
natural
moth
math
fibonacci
pins
Also available as:
You may also enjoy: