From The Artist
ORIGINAL SOLD. From the series "The stars reflected in the eyes", cementite, oil, graphite, wooden sticks and cotton thread on paper. 20 x 20 cm.

Anything that can be classified in a homogeneous series exerts an attraction on me and an impulse to draw it. Perhaps what attracts me is the research of the variant, the exploration of the rules that allow the inclusion of that group of objects in a single set but giving to each object its uniqueness.
So I always liked to draw eyes. Individual eyes, wide eyes, groups of eyes, half closed eyes. To change the expression or play with colors and decorations as if it were a make-up, allows endless variations.
Even the constellations in the sky are endless, and I drew these too, as if they were geometric embroidery or imaginary and arbitrary warping created for the sole purpose of interpreting a reality difficult to understand.
Then, when the verse of a mawkish romantic song came into my thoughts ("The starlight is reflected in your eyes ..."), I could not resist to create a new series, based on the union of those two, which although have nothing to do with each other, related by the only fact of being homogeneous sets, ready to be classified to quench the thirst of an artist that is anxious to bring order into its chaotic imaginary world.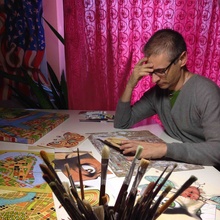 federico cortese
I was born in 1971 in Turin, Italy, where I live and work as an artist. Since I can remember I have always drawn. My preferred techniques are classic oil on canvas paintings, and pencil drawings.

I'm like a mouse in its box. A little mouse safe in its shelter, that passes his time gnawing the food stored for the winter. But my food are the drawings. I work within my home. My studio is a room of the house in which I live. In this relatively small space are accumulated all the materials and equipment I need to ...
Description
This is a gallery-quality giclée art print on 100% cotton rag archival paper, printed with archival inks. Each art print is listed by sheet size and features a minimum one-inch border.
Tags
geometric
abstract
geometry
surreal
constellation
eyes
fine art
eye