Free worldwide shipping on orders over 45 USD!
Choose Number of Cards
$5.00 / Card

$4.25 / Card

$4.00 / Card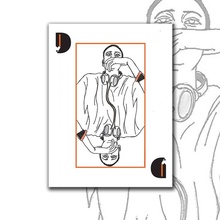 Dwin Graphics
Artist and Illustrator. My art career started at the age of three, when I drew my father's cellphone. Grew up being used to traditional drawing and exploring mixed media art during my high school years. Started majoring the use of pen and ink in 2012 and ever since it has been my best media tool.

No matter how much I take I will always take everyday as an opportunity to improve and grow in my skills. I like the challenges I face as I aim to reach my goals. I do love collaborations so don't hesitate to approach me ...
Description
Share your favorite art on soft textured natural white stationery cards, archival-rated with beautiful color reproduction. Each folded card includes a natural white envelope perfect for mailing. Card dimensions are approximately 5.5" x 7.5".
Also available as:
You may also enjoy: