Free worldwide shipping on orders over 35 USD!
From The Artist
"A key to the room of your own and a mind without end." Digital collage created with the Indigo Girl's "Virginia Woolf" rolling through my head. Inspired by and created in collaboration with Jessica Smith-Carlock's beautiful low-light photography.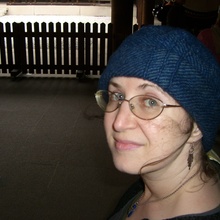 Crowgirl
I am an artist, crafter and professional creative/weird person, with degrees in anthropology and graphic design.

My work is strongly influenced by my love of history, historic cultures, whimsy, Victorians and neo-Victorians, nature, craft, hobbits, and adventure.

In particular, I love collage, watercolor and blending illustration with photography to hint at visual storytelling.

Most of my recent work can be seen on my Tumblr, including a series of animated gifs that are done just for fun and pleasure. Please check it out!

Description
This is a gallery-quality giclée art print on 100% cotton rag archival paper, printed with archival inks. Each art print is listed by sheet size and features a minimum one-inch border.
Tags
digital illustration
digital collage
altered photography
virginia woolf
Also available as:
You may also enjoy: