Free worldwide shipping on orders over 35 USD now through March 31!
Choose Number of Cards
$5.00 / Card

$4.25 / Card

$4.00 / Card
From The Artist

To find out more of my most updated LoL fanart, visit :
cglas.deviantart.com

You can also get my Autographed Copies @
https://www.etsy.com/sg-en/shop/CGlasDesign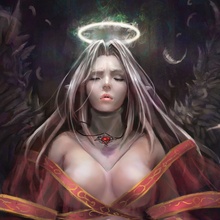 CGlas
Freelance Illustrator , Concept artist from Singapore

Artsite: cglas.deviantart,com
Contact me at: [email protected]


Description
Share your favorite art on soft textured natural white stationery cards, archival-rated with beautiful color reproduction. Each folded card includes a natural white envelope perfect for mailing. Card dimensions are approximately 5.5" x 7.5".
Tags
illustration
art
sexy
prints
anime
succubus
overlord
albedo
Also available as:
You may also enjoy: