Free worldwide shipping on orders over 35 USD now through March 31!
From The Artist
When I paint figures I usually paint from the model. The model's pose speaks to me as I am working and tells me the mood of the painting. In general, I choose to communicate emotions and relationships through the movements of the bodies and where their eyes are focused.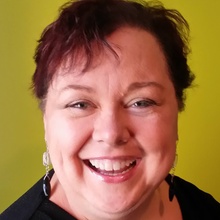 Barbara Muth
I call myself a contemporary figure painter. I also paint abstracts. In my work, both representative and abstract, I am a colorist who paints emotions and relationships. I have a studio at the Torpedo Factory Art Center in Alexandria Virginia.

I am obsessed with my two greyhound companions Bella and Blitzie and their two greyhound pals Monty and Leaha. They often make appearances in my paintings.

Description
This is a gallery-quality giclée art print on 100% cotton rag archival paper, printed with archival inks. Each art print is listed by sheet size and features a minimum one-inch border.
Tags
pink
woman
people
modern
contemporary
figure
muth
barbara muth
Also available as:
You may also enjoy: