Free worldwide shipping on orders over 35 USD now through Nov. 1!
From The Artist
For the Prism Chonicles: Book 2, Hands of Thieves

(Haven't read Book 1 yet? Support an independent author and find it here: https://www.createspace.com/4498976 )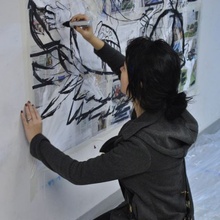 Jo Turner
I am Jo Turner, doing art under my pseudonym Nolie, the Artist Mercenary. This was done because Jo Turner is a perfectly generic name that is almost impossible to search for on the internet.

I am an artist who freely works with a variety of media and subjects. In traditional media, I frequently use acrylic paint, but also enjoy charcoal, pencil, pen, and colored pencils. I am adept at painting digitally, and I design characters. I have also experimented with animation and spriting. The subjects I prefer are people, landscapes, and animals, but I more frequently create my own ...
Description
This is a gallery-quality giclée art print on 100% cotton rag archival paper, printed with archival inks. Each art print is listed by sheet size and features a minimum one-inch border.
Also available as:
You may also enjoy: