Free worldwide shipping on orders over 50 USD now through Sunday!
Choose Number of Cards
$4.00 / Card

$3.40 / Card

$3.20 / Card
From The Artist
The sea silk was a treasue hidden in plain sight. Most of those who sailed these shore never noticed the gold hidden at the tideline, and no wonder. The jealous sea kept a weary watch over it's trove, and only when sunset and shallows conspired would it be revealed to the watcher.

The harvest was dangerous, and only few were those who had the knowing and the heart to steal from the watery gods that which they guarded so closely.

Still, it was a thing worth doing, if nothing else to spin and robe oneself in the cloth of gods.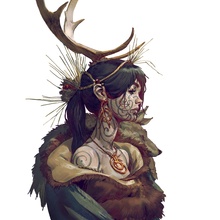 Even Mehl Amundsen
Even Mehl Amundsen is a freelance concept artist from Norway who has worked for studios like Volta, Blizzard, Riot, Wizards of the Coast and many more. Besides that he has been working on his own world shown in TEGN. He travels a lot, teaching what he has learned in workshops and giving advice to newcomers.
Description
Share your favorite art on soft textured natural white stationery cards, archival-rated with beautiful color reproduction. Each folded card includes a natural white envelope perfect for mailing. Card dimensions are approximately 5.5" x 7.5".
Tags
water
sea
gold
cave
gods
harvest
silk
cloth
tide
Also available as:
You may also enjoy: