Free worldwide shipping on orders over 50 USD now through Sunday!
From The Artist
The old bird was in a foul temper, screeching her venom as she struck down, only just missing the fleeing pair as the came diving out of the dry grey pines.

It has seemed such a fine gambit that morning, to make east under the old hag's very nose, but it had not taken long before they had seen her circling above.

In hindsight it might have been to much to hope that they'd be allowed peacefull passage beneath her perch, but no time now for looking back, not with talons snapping at their heels.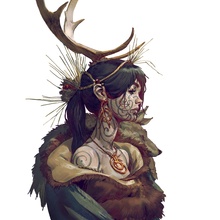 Even Mehl Amundsen
Even Mehl Amundsen is a freelance concept artist from Norway who has worked for studios like Volta, Blizzard, Riot, Wizards of the Coast and many more. Besides that he has been working on his own world shown in TEGN. He travels a lot, teaching what he has learned in workshops and giving advice to newcomers.
Description
This is a gallery-quality giclée art print on 100% cotton rag archival paper, printed with archival inks. Each art print is listed by sheet size and features a minimum one-inch border.
Tags
wings
death
bird
deer
hunt
prey
Also available as:
You may also enjoy: