Free worldwide shipping on orders over 50 USD now through Sunday!
From The Artist
The blight had swept through these lands an age ago, laying the forest low and driving off all those who could flee. In the end it had reached the very heart of the forest, and there it had been halted and held and allowed to spread no further.

The forest still lived, though the sickly yellow mists made the once lively woods seem like some ghostly place, a shadow of itæs former glory and those few who had returned to their home accepted that it would never again be as it had once been.

Not for them to go back, they must move ahead and make anew.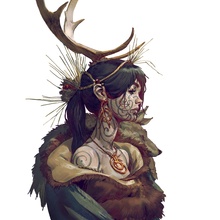 Even Mehl Amundsen
Even Mehl Amundsen is a freelance concept artist from Norway who has worked for studios like Volta, Blizzard, Riot, Wizards of the Coast and many more. Besides that he has been working on his own world shown in TEGN. He travels a lot, teaching what he has learned in workshops and giving advice to newcomers.
Description
This is a gallery-quality giclée art print on 100% cotton rag archival paper, printed with archival inks. Each art print is listed by sheet size and features a minimum one-inch border.
Tags
forest
armour
elf
weapon
grower
Also available as:
You may also enjoy: