Choose Number of Cards
$5.00 / Card

$4.25 / Card

$4.00 / Card
From The Artist
It moved with an ominous, slow elegance, and as the light glinted off its scales, its gleaming eyes fixed them with an almost curious stare. Birker held his breath, feeling the slight trembling of Hedda behind him. No words were spoken, and yet afterwards, Birker could have sworn that the great wyrm's voice was in his head, calming his fears, and even comforting him.

Birker even smiled slightly as he went to one knee, bowing before the King of the Eastern Greenlands.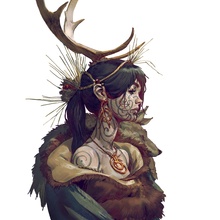 Even Mehl Amundsen
Even Mehl Amundsen is a freelance concept artist from Norway who has worked for studios like Volta, Blizzard, Riot, Wizards of the Coast and many more. Besides that he has been working on his own world shown in TEGN. He travels a lot, teaching what he has learned in workshops and giving advice to newcomers.
Description
Share your favorite art on soft textured natural white stationery cards, archival-rated with beautiful color reproduction. Each folded card includes a natural white envelope perfect for mailing. Card dimensions are approximately 5.5" x 7.5".
Tags
fantasy
wings
fire
green
forest
dragon
monster
creature
big
drake