From The Artist
They waited through the long hours of the night in utter silence. Having come so close to the fortifications now, that the smells of the city drifted out to them, it was easy to wonder about life within the walls. The ripe, pungent stinks mixing with the scents of the bakers and the farmer's markets gave the city a character of its own, and even in the darkest of the night hours, life went on with its myriad of noises.

For all that, the watchers walking the walls seemed few, and ill drilled as they huddled around their fires, chatting in low worried voices, giving up their night sight and letting anyone hiding beneath know just where they were.

As dawn's fiery fingers started stretching in amongst them, dappling the ground and waking those who had dozed off, a smile spread across Hardeye's face. He sent a whispered word along, rousing the company, each of them moving to where he had pointed out the night before.

It was all ready.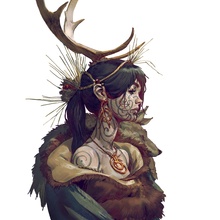 Even Mehl Amundsen
Even Mehl Amundsen is a freelance concept artist from Norway who has worked for studios like Volta, Blizzard, Riot, Wizards of the Coast and many more. Besides that he has been working on his own world shown in TEGN. He travels a lot, teaching what he has learned in workshops and giving advice to newcomers.
Description
This is a gallery-quality giclée art print on 100% cotton rag archival paper, printed with archival inks. Each art print is listed by sheet size and features a minimum one-inch border.
Tags
war
beard
face
fight
warrior
scars
hardeye